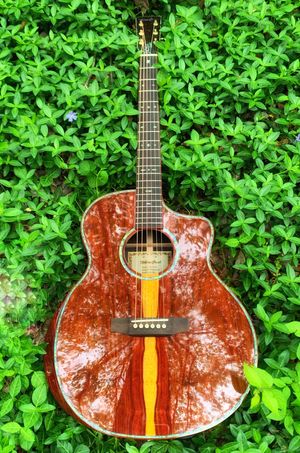 WELCOME TO JAZZCAT STUDIO
Jazzcat Studio is owned and operated by four-time Grammy nominated producer and guitarist, Denny Jiosa. Known around the globe for his own 9 CDs as a performing jazz artist, Denny has  employed his engineering and production talents on a wide diversity of award-winning records and critically acclaimed recording projects. 
As a principal owner and partner in the Sonic Canvas Record label, which Denny, himself, creates records for, Denny brings far more than just production and engineering skills to any project. "Through years of pulling together creative resources for my own recordings and the hundreds of projects I've worked on, I realized I have a talent, not just for recording, production, mixing and mastering, but also for offering project consultation and career advice. The Sonic Canvas partners have created a set of resources that can offer assistance to artists in everything from song selection, production, photography, packaging design, video and promotion to social networking and website creation." But the thing Denny is most proud of is the richness of the sound he achieves. "I'm always thrilled when I read a review that mentions the sonic purity of a project recorded here at Jazzcat Studio. That was really the concept behind the Sonic Canvas Records name— we utilize world-class musicians here and employ an extensive list of gifted players and singers, but capturing musical performances with pristine clarity is what I pride myself on." 
In that respect, Jazzcat Studio combines a mixture of old-school and new technologies. Recording to hard disc and mixing through a large analog desk is the perfect blend for creating 'big, warm sounding mixes' that stand above the crowd. "I offer the same equipment I've hand-picked for my own signature recordings—I bring the same ears and the same attention to every project I work on," says Denny. And don't hesitate to ask him to perform on your project; his impressive guitar playing appears on hundreds of albums worldwide. 
Jazzcat Studio is available for your next recording project. We offer a variety of packages and services, whether you simply need a studio with engineer for a single song or if you'd benefit from full album production, with musicians, CD packaging, download sales, artwork and promotion—with career consultation. Don't hesitate to make us aware of your particular recording needs. With today's technology, regardless of where you live, Denny can mix and master your project even if you are located outside of the Nashville area. 
Contact us today for all your recording and project needs or if you just have a question! 
denny@jiosa.com 
615-584-4451 
Artists who've used Denny's talents include: 
Multiple Grammy, Dove, BET and Image award-winning artist, Yolanda Adams;   American Music Award, Academy of Country Music Award and Grammy-winning artist Crystal Gayle;   Grammy nominated guitarist singer, Phil Keaggy;   Grammy and Dove nominated Jazz saxophonist, Kirk Whalum;  Legendary drummer (with Frank Zappa, Genesis, Phil Collins, Peter Cetera, Tower of Power, Weather Report) Chester Thompson; Multiple- time Grammy(3), Dove(8) and Stellar(12) Award nominated, gospel-jazz artist and producer Ben Tankard;   5-time Grammy nominated artist LynnMarie Rink;  Steinway Artist, Joe Augustine; jazz keyboardist / soundtrack artist Kenny Zarider 
Partial Gear List: 
72 input Neotek Elite 
SSL Stereo Buss compressor TASCAM DV-RA-1000 HD mastering deck Amek/Neve 9098 mic pre 
Creation audio labs MW1 Great selection of Microphones, custom built PRS and VVT guitar Amps